Are you ready to scale-up your business? If your answer is 'yes' then it will probably be time review your resources, decide on expanding your team, create a new business plan and make sure your business strategy is supporting growth, whilst making sure you continue to be financially compliant and all other operations are being looked after…phew! That sounds like a lot to take on.
There is so much a business owner must carry in order to make sure their business continues to succeed and grow but focusing on the wrong things can take the business in the wrong direction and ultimately creates problems.
Getting the right advice and support is vital for businesses looking to grow and expand – and often having external input on what needs to be done is the best way to access that.
Finance Director versus CFO – what's the difference?
Most large / corporate companies will have both Chief Financial Officer (CFO) and Financial Director (FD) onboard their team. It's usual that the FD would sit with the finance department and be responsible the finance team and also the compliance and support the management team, where as the role of the CFO would typically work with the CEO to take the finance insight into the wider business and would be involved with conversations with customers and any investors.
Luckily for small businesses looking to scale-up the role of a CFO is slightly different. A CFO operating an smaller organisation would be focused on advising activities to support growth whilst managing or overseeing many of the financial, operations, HR responsibilities at the same time. They would work closely with the CEO in embedding the financial strategy across all departments, helping to bring clarity and understanding to the next phase of the business journey.
This table helps illustrate the areas of focus and responsibility of the CFO: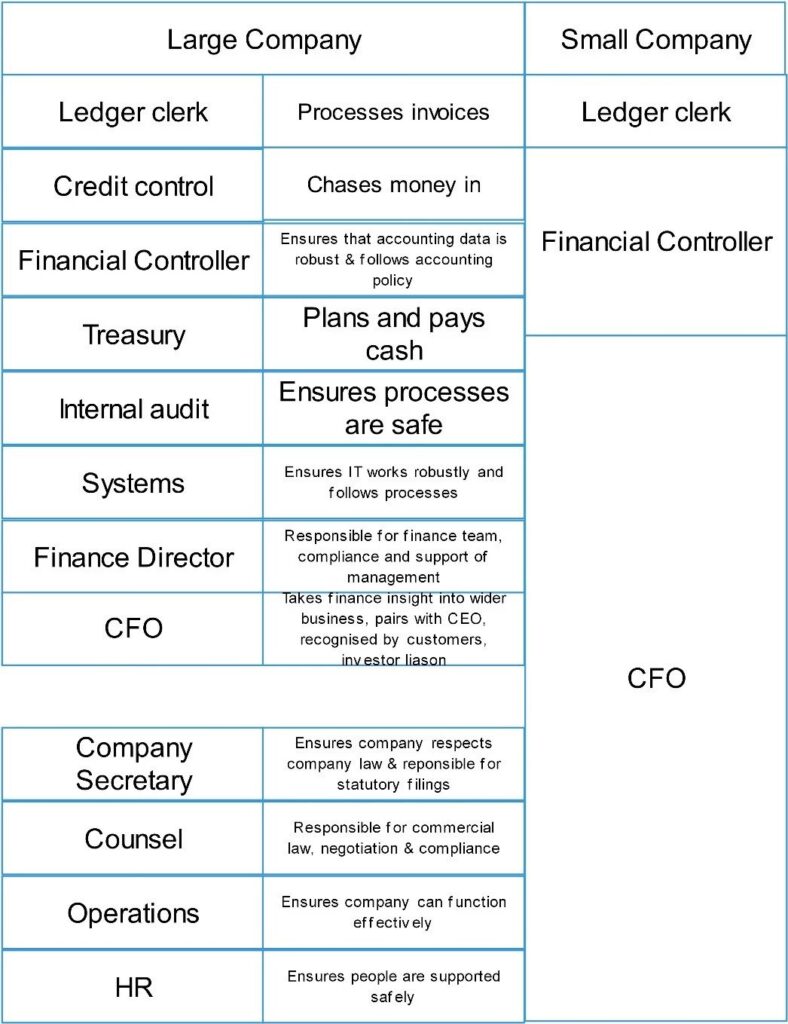 The benefits of having a CFO onboard
As mentioned earlier, there are many important decisions to make as a business owner and without the right financial data it can be hard to know when and how to take the right actions. More often, decision making can be delayed or avoided which can really impact the over all health of the business, and eventually lead to failing financial performance.
In our experience, the CFO's job is to bring that important financial insight that will help form a robust business plan and enable the right decisions. They bring clarity and focus on what needs to be done and show you how to get there. The CFO will be focused on growth and will encourage action on the right opportunities, whilst engaging with external investors and devising exit plans when necessary.
The outsourced CFO
A CFO sounds like expensive head count to take on if you're a small business, but there's always the option to outsource this service, meaning no employee costs or long term commitments are necessary. In addition to cost saving, another benefit to outsourcing is that you're likely to get a wider skill-set and breadth of experience if you go to a 'firm' of CFO's – who are often called Business Growth Advisors.
At Practical CFO, we have over 25 years of working with ambitious companies who want to grow and succeed by providing outsourced FD and CFO services. We use a practical and clear methodology to help businesses be the best they can be:
· Get an in-depth historical analysis
· Thorough review of process & people
· Creation of Strategy & Planning
· Focus on the quick wins
· Signposting & introductions
· Focus on the bigger wins
· Rinse & repeat
We like to keep things straight-forward and practical whilst working closely with the business to advise and support throughout the whole process.
If you have any questions on the role of the CFO and find out if it's the right time for you, feel free to contact our team.